Build math Minds
School Purchases

Below you will find purchase and registration links to current "Open" Course and Membership Registrations.  If you have any questions about your school purchase please email info@buildmathminds.com
Begin Your Registration Here
This registration area is for authorized school personnel to register participants in courses and membership offerings.  Registration here is NOT for individuals paying by credit card.  By completing a school purchase registration you are authorizing your school/district to complete all the steps necessary including providing your necessary documents, PO numbers and authorized payment responsible person information.  Please continue by reading the Registration Directions.  If your funds are NOT YET approved please do not proceed. We will allow a late registration once your funds are approved. If you are in a State that requires vendor approval and does NOT have Mathematically Minded LLC approved as a vendor DO NOT proceed.  Our invoicing system is for approved funds. Payment is expected within 30 days or accounts will be suspended. Authorization paperwork must be completed prior to placing a registration. If you need a Quote to secure funding approval email info@buildmathminds.com with specifics of what you need a quote for. Mention the course, course duration and quantity of participants.  DO NOT proceed with a registration on this page if you need a Quote. Completing this registration generates an invoice to you.
Choose the Correct Registration
At any given time we have several "open" courses or member registrations. Courses can be taken in 3 month or 1 year intervals. BMM Membership may be for a new member, a Participant completing a course and joining BMM, or a Current BMM Member renewing membership.  Please choose the correct registration. If you have any questions about the correct registration to use please ask PRIOR to completing a registration. For group enrollments greater that 5 participants go here.
Participant Information
ALL the "tech" behind registration utilizes the participants email address. Please be accurate when you type the email address. If a participant has taken a course previously or is a current member you MUST use the same email address to connect current account information to new account information.  Many teachers have registered with us using multiple email address. Make sure you are registering the correct participant email. (Double check your spelling).  We ask for the Participants physical mailing address because we send course information and materials for special events such as the Book Study. We prefer the Participants home address so that materials are received if the course is taken during school break time periods.
School Purchase Payments
After your registration is complete a Build Math Minds invoice will be generated.  You will have 3 choices when you register.
you are attaching the Purchase Order to you registration,
a Purchase Order is not needed and payment will be made without one,
or you are creating a "Pending" registration where a PO will be sent when available.
Once a BMM Invoice is finalized your payment options include pay by check or credit card. (We do not accept ACH or EFT payments).  The email address entered in this registration process is the email address the Invoice is sent to. Please double check your email spelling. ***IMPORTANT Our invoice generation is automatic. The invoice is sent to the email address you enter. We do not review PO details and determine who the invoice should be emailed to. Delay in invoice payment will result in course/membership suspension.
READY TO SUBMIT A SCHOOL ORDER

Make sure you have these items ready:
School Billing Information
Name, Address, Email of Billing Responsible
Names & Email Addresses of Teachers You Are Enrolling
Funding approval.

Do not register if you do not have funding approval. Registration creates and grants immediate access to a member/course account.
BUILD MATH MINDS MEMBERSHIP
The Build Math Minds Membership School Purchase is a one year membership.  The beginning date is the day this registration is completed. The participant will be notified upon registration that membership is started/renewed.  Please consult with the participant to ensure you are choosing the correct registration link below.
NEW MEMBER: A new member registration is for a Participant who is NOT in a current course and is NOT a current BMM Member. The participant may have been a past member but choose this option if the Participant is currently NOT in a course or BMM Membership.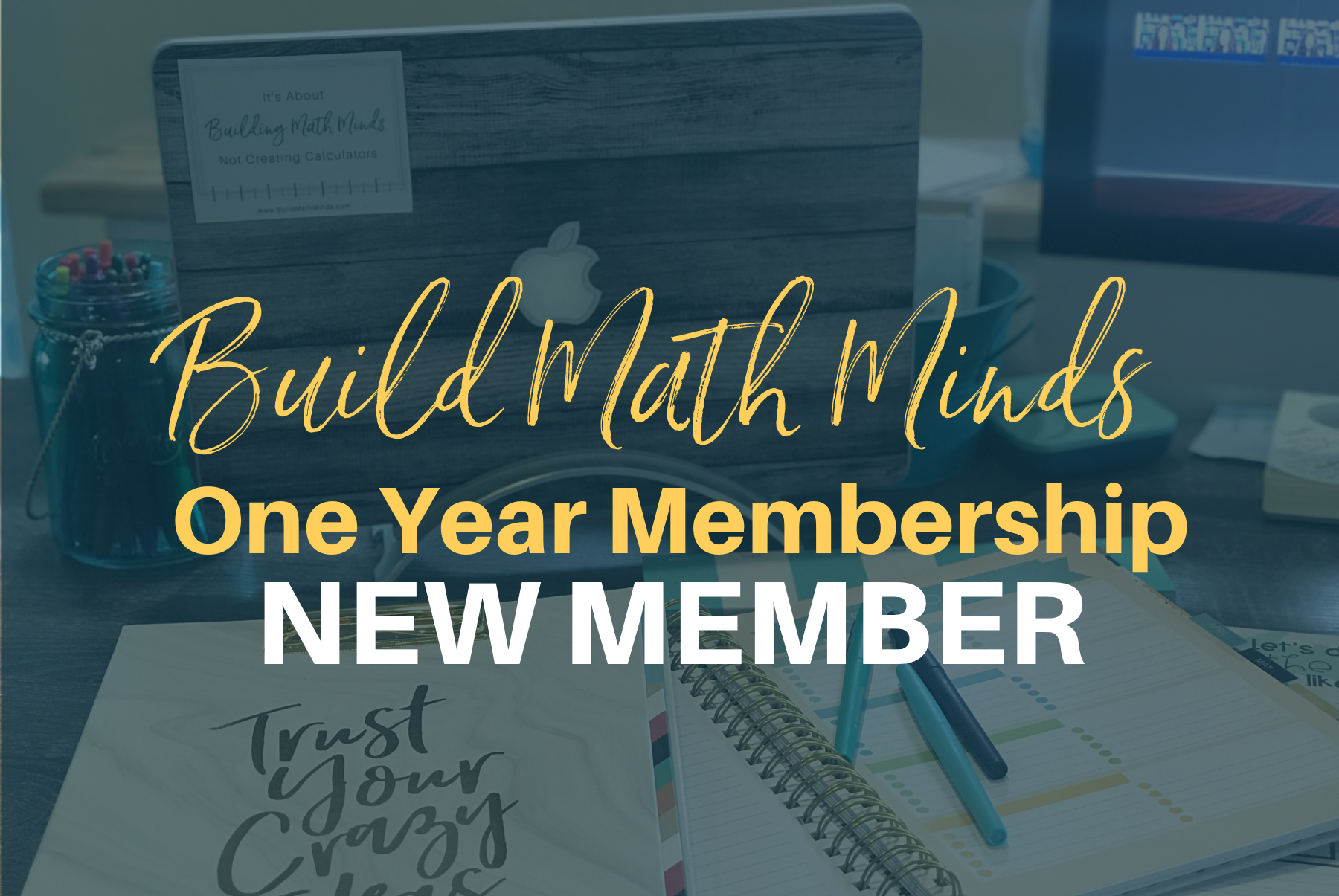 MEMBER RENEWAL:  A member renewal registration is for a Participant who is currently a Build Math Minds member.  DO NOT USE THIS OPTION UNLESS YOU ARE A CURRENT MEMBER. This registration should be completed each year to continue BMM Membership. The member is emailed 30 days prior to the end of the one year alerting the Participant to renew.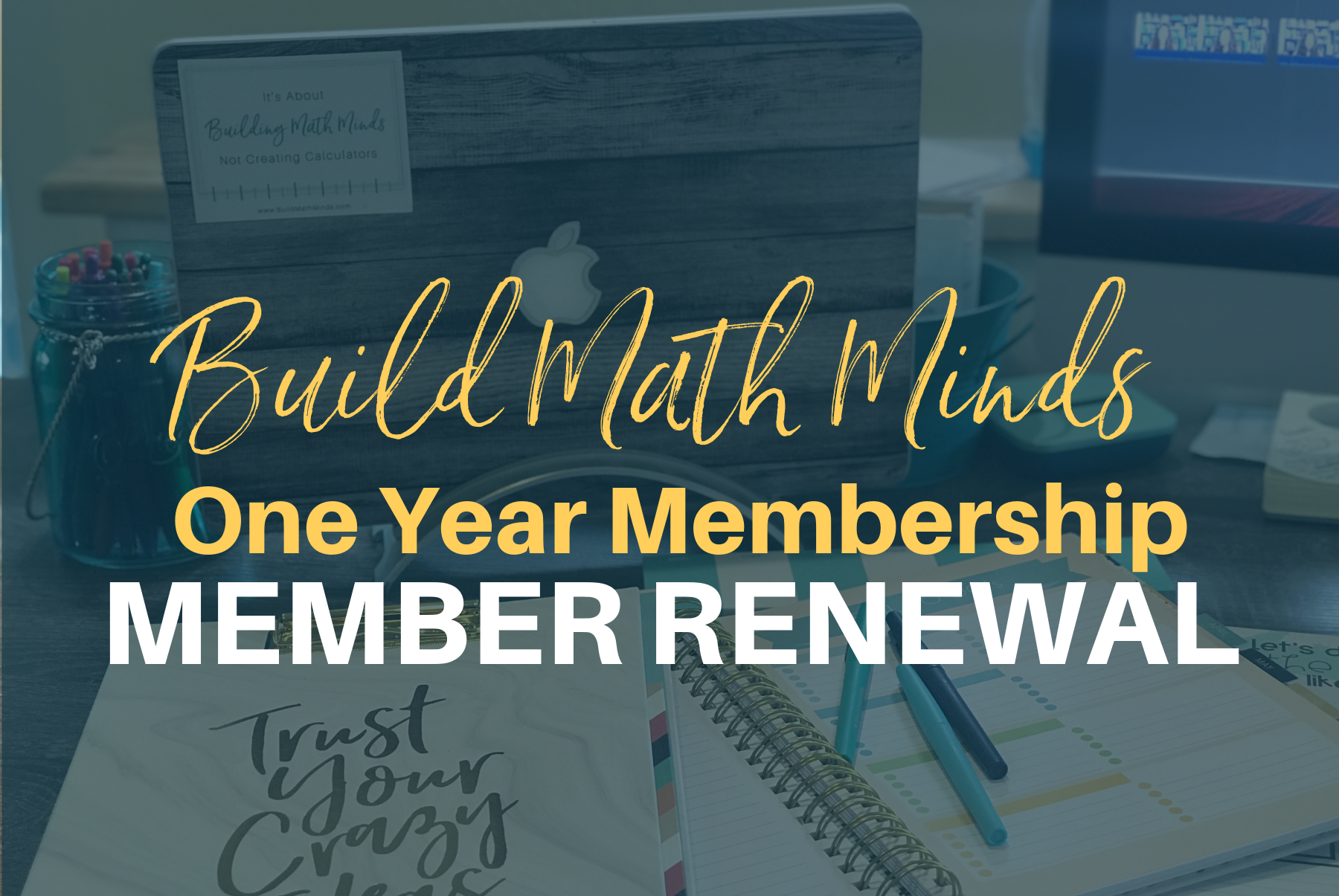 JOIN AT COURSE ENDING:  This registration is for the Participant who is currently taking a BMM Course and will be joining the BMM Membership.  Upon registration the Participants one year BMM membership will be created and tied to the course the Participant is currently completing. DO NOT USE THIS OPTION IF YOUR COURSE HAS ENDED AND IS CLOSED. USE NEW MEMBER.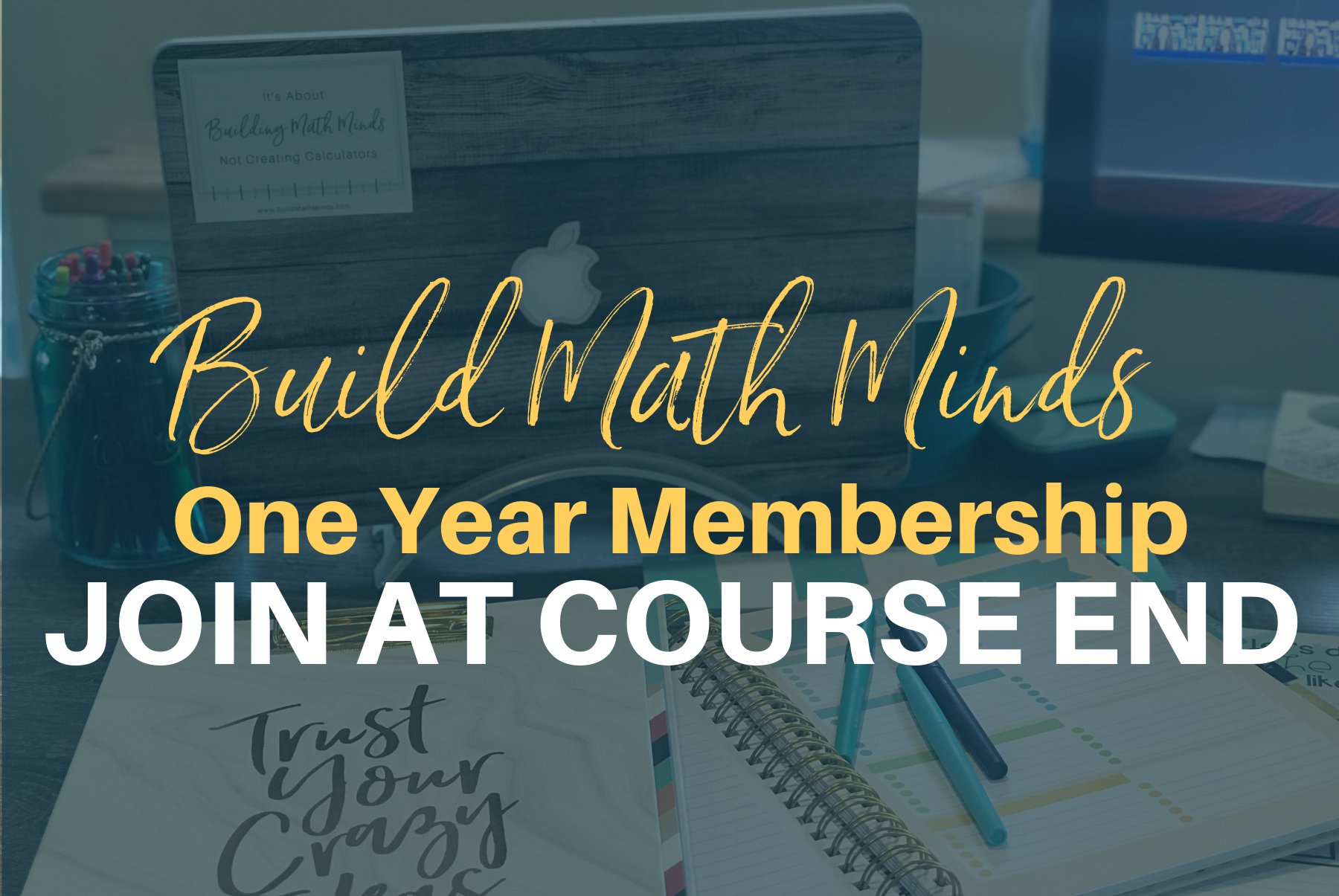 COUNTING ON NUMBER SENSE PREK-1ST COURSE
We greatly appreciate if you ask your question before registering. Correcting registrations can cause delay for the Participant.